Chevy Scrapbook
1953
The Photos associated with these pages have been sent to me since December 1999.
These are all near original condition vehicles.
If you would like to display your Late '40s to Early '50s Model Chevrolet,
(preferably in near factory or restored condition, No Hot Rods Please)
send me an e-mail with your .jpg or .gif photos (limit 6 please)
Please note this is for 1946 through '54 Model Chevys Only!
Click on any Photo to ENLARGE
---
1953 Chevrolet Sedan Delivery in Norway
This car is in good shape except for the chrome. There is a 235 cubic inch engine and a 1952 powerglide under the bonnet. It was imported to Norway in 1953, and has been here since. It was used for carrying apples and sometimes used for camping trips.
Asbjørn Johannessen of Norway Submitted: 10 November 2000
---
1953 Chevrolet 4 Door Sedan
This 1953 Chevy was purchased in 1994. Rebuilt Engine, new radiator, sealed Gas Tank in 1995.

Rebuilt Transmission and Rear End, Brake System in 1996.

Redid Interior, Headliner, Seats, Door Panels, all mild custom in 1997.

Repainted Blue Metallic and Diamond Pearl White in 1998.

Finished Dash, New Gauges, and Rewired in 2001.

Average ten shows a year.

Blue Flame Six with Original Six Volt System.
---
1953 Chevrolet Sedan Delivery
This car was built in March 1953 in Tarrytown, NY (and has the original 216 cubic inches 6 cylinder and 96 HP with 3 speed transmission) and spend the last 48 years in New Jersey. I am the third owner. The car was totally restored in 1998, but had a bad paint job. I bought it in 2001 and repainted it two tone, India Ivory & Regatta Blue and dressed it up a bit.
I use it for my wallpapering business and you can see it almost daily on the road in the Greater Boston area in Massachusetts.
---
1953 "210" 4 Door Sedan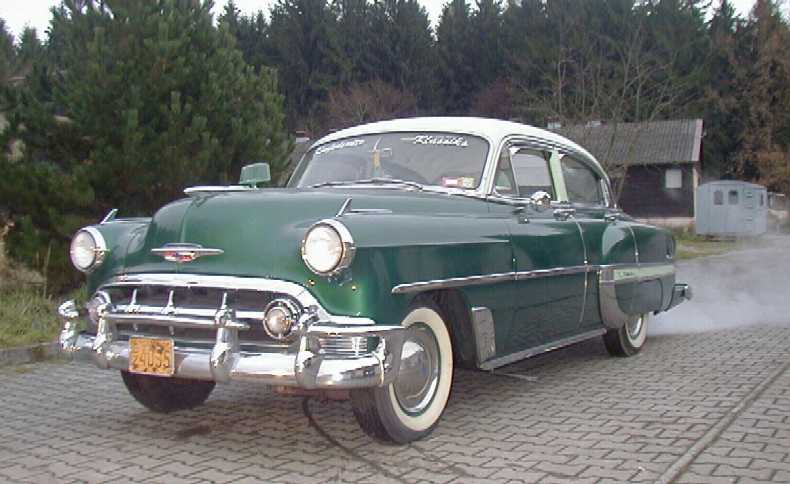 1953 210 4dr Sedan with p/s, p/g, sunvisor, continental kit and several other options
stock 235 six banger, fender skirts, not restored
Thomas Littich of Munich, Germany Submitted: 5 June 2003
---
1953 Bel Air Convertible in Dubai
I found this 1953 Bel Air Convertible in Syria (in the condition shown in the photo below)

This car has been mostly restored (still missing some parts) and I'd like to have some more info on where and when she was manufactured (Baltimore?) and shipped (Syria directly?):

Chassis number : 53 BOI 6974
Engine Casting; 3836848
Engine number: LAK 730578
Body Plate:

Style: 53 1067 DTX
Body No. 1887
Trim: 267
Paint: 503

I am having great fun and pleasure driving it now in Dubai.
Olivier Mercier of Dubai
Submitted: 5 February 2004
---
Please Report any Broken Links or Pages that do not load properly. Webmaster
All Names, Logos and Trademarks belong to their Respective Owners.