CUSTOM DELUXE TRUCK RADIO MANUAL TUNING 987187

This radio is a 6 tube (including rectifier) super-heterodyne automobile receiver designed expressly for 1955 Chevrolet truck installation. The radio consists of a radio receiver unit with an external speaker. This type of design is advantageous for both installation and service as all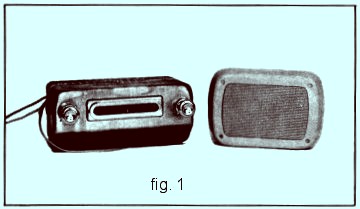 component parts of the receiver are readily accessible for quick efficient replacement when service is required. Using an external type speaker affords the advantage of having a larger type speaker in a limited space area.


The circuit used in this receiver is the super heterodyne type that uses no regeneration. The tuning circuits are of the permeability type and are tuned by varying the iron cores in and out of the antenna, radio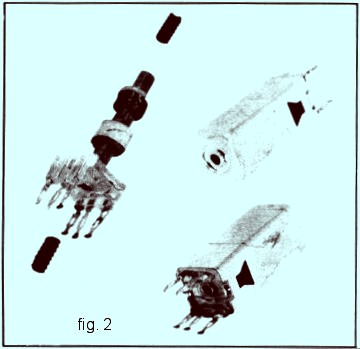 frequency and oscillator coils like pistons. The intermediate frequency stages are tuned by means of two iron cores in each transformer and are adjusted with an insulated screw driver from the bottom and top of each transformer; both the first (input) and second (output) intermediate frequency transformers are tuned by this method. See figure 2.
The antenna circuit is capacity coupled to the antenna by means of an adjustable antenna trimmer condenser to take care of normal variations in antenna and antenna coil capacity. The antenna condenser is adjustable by means of a small screw driver and is located at the rear of the radio case. The automatic volume control is capable of maintaining a constant level of volume at all times. Very high frequency filter chokes are used in the radio frequency grid circuit to discriminate against ignition interference in the receiver, thus eliminating the use of spark plug and distributor suppressors. The vibrator is the full wave non-synchronous type using an 0Z4 rectifier tube and will operate on either a negative or positive battery ground.

TUBE COMPLEMENT AND FUNCTION
| | |
| --- | --- |
| 12BA6 | Radio frequency amplifier |
| 12BE6 | Oscillator-modulator |
| 12BA6 | Intermediate frequency amplifier |
| 12AV6 | Detector - Automatic volume control and first audio |
| 12V6GT | Audio output |
| 0Z4 | Cold cathode rectifier |

Tuning range 540 - 1615 Kilocycles
Intermediate frequency 262 Kilocycles
Maximum power output 4.5 watts
Undistorted power output 2.5 watts
Current drain 2.5 amperes at 12 volts
Speaker-Alnico V permanent magnet type 5x7 inch
Voice coil Impedance 4 ohms at 400 cycles
Fuse protection 7.5 amperes 25 volt

PROCEDURE FOR CHECKING THE VOLTAGES OF 987187 RADIO

Hook up radio on the service bench to a "12" volt power supply unit. It is important that you have 12 volts at the spark plate of the radio, or the voltage readings will be correspondingly lower. All voltage readings have been taken with V.T.V.M. Set the volt-ohm meter in the "60" volt position to read "D.C." voltage. Ground one lead of volt meter to radio chassis and with