Chevy Scrapbook
1950
The Photos associated with these pages have been sent to me since December 1999.
These are all near original condition vehicles.
If you would like to display your Late '40s to Early '50s Model Chevrolet,
(preferably in near factory or restored condition, No Hot Rods Please)
send me an e-mail with your .jpg or .gif photos (limit 6 please)
Please note this is for 1946 through '54 Model Chevys Only!
Click on any Photo to ENLARGE
---
1950 Chevy Convertible
Ok, here is a couple of shots of my latest project. A 1950 Chevrolet Convertible I got this car 49 years to the day it was sold. It was originally bought in Tampa Florida 12/29/1950 by L.A.Twiggs of Tampa Florida and I got it 12/29/99. It is stock at this time, but when my 41 Chevy convertible is finished I will change this one a little.
1950 Chevrolet Convertible
Serial# 8HKH 48130 Taxable (SAE) horsepower: 29.4
Motor# HAM 425200 Gross brake horsepower: 92@3400RPM
Motor: 216.5 inline 6 cyl Net brake horsepower: 85@3300RPM
Rear axle ratio: 4.11:1
The inside is red leather, the outside is Black.
Carveth Morris of Supply, N.C Submitted: January 2000

---
Canadian 1950 Chevrolet 2 Door
This 1950 model Chevrolet is fully original. I'm the 3rd owner. The last owner started
to redo the car , but for financial reasons he had to sell it. (I think it's tax
reasons ...shhhh!!!!). So I took the chance! This car has the original in-line 6
cylinder engine with a 6 volt battery system. The interior still needs some work (also
original), but still very nice. I want to keep it as original as possible ....at one
point I put mags on it (hot-rod look), but then they were stolen.
The second photo included is of the car with the mags , but since I saw a link on your
web page (Jims parts) I think I'll change the look and keep it original as possible

Submitted by Stephen LeFebvre of Ontario, Canada Submitted: 13 August 2001
---
1950 Chevrolet in the Netherlands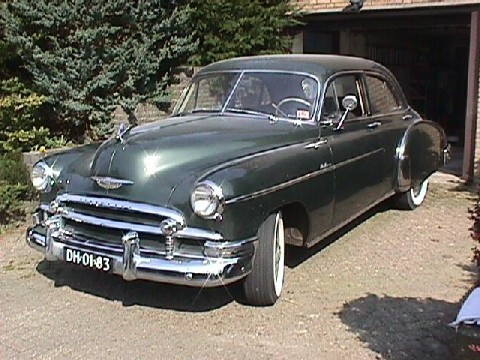 Hi, I like to present my first Chevy. I have bought it just recently in the south part of the Netherlands (at the German border). The car is a DeLuxe Styleline, with the original 6 cylinder engine and a Power Glide automatic transmission. It has been totally restored in 1991 after the car has been transported from Pennsylvania. As the picture shows, the car was covered with dust, since the it has been in a garage for over 2 years. All it needed was a new ( 6 volt) battery and some fuel directly in the carburetor !! I plan to maintain the car as it is, but hope to find a sun visor (which is hard to find in our country).
Jeroen Kamp of the Netherlands Submitted: 28 April 2002
---
1950 Chevy Bel Air
Purchased this 1950 Chevy Bel Air in February 2002 from an internet ad. Had the car shipped from Pennsylvania...sight unseen...a big mistake. The owner sent me two photos of the exterior...and they looked great. But I could not imagine that this would be a wolf in lamb's clothing. This was a learning experience. Got to see it first. before I ever buy again !! So many "irregularities" about this car....would be too lengthy to get into....but after a month of ownership....I decided the thing to do was get to work. I had been looking/wanting a Bel Air for long while. Now I had one...not really what I had imagined I was buying at the time...but a grand Bel Air, anyway. It's been non-stop work ever since and lots more to go to get it close to what was there in 1950.
It's getting there slowly. And after the initial disappointment....I am slowly loving it more and more. This "first ever" Bel Air model is Serial #8HKF35611 ...assembled in Atlanta, Ga. in June of 1950. It is a 3-speed powered by an engine block casting #GAM3835253, which makes it a 1949 power plant. The trim and paint information on the cowl tag is incorrect.
The car came from the factory as Falcon Grey and Windsor Blue 2-tone with a blue interior trim. It now reflects the correct red interior trim colors to coincide with the Black exterior. Viewers will notice the red paint fill in the hub cabs. That is not correct for 1950. But, since it is correct for 1949 hubcaps...and this car does have a 1949 engine...and I think the red looks better with the black....that's the way she will be.
Jim Deal of Lake Placid, FL Submitted: 11 October 2002
Chevy Talk Member "Boots235"
Check out my 1951 Chevrolet on the 1951 Chevy Scrap Book Page 2
---
Click Here to See More 1950 Chevys