Chevy Scrapbook
1952
The Photos associated with these pages have been sent to me since December 1999.
These are all near original condition vehicles.
If you would like to display your Late '40s to Early '50s Model Chevrolet,
(preferably in near factory or restored condition, No Hot Rods Please)
send me an e-mail with your .jpg or .gif photos (limit 6 please)
Please note this is for 1946 through '54 Model Chevys Only!
Click on any Photo to ENLARGE
---
1952 Chevy 2 Door Sedan
HERE ARE A FEW OF THE SPECS ON MY CAR:
Engine: 216 6 cylinder
It's still on the 6 volt system
Rebuilt. Saginaw 4 speed
Open drive line with 3:08 gears
Split manifold with dual exhaust
Lowered 2"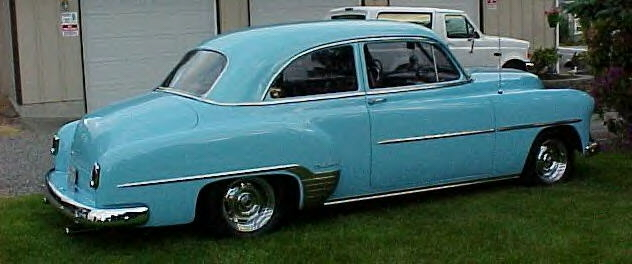 Jeff Smith of Graham, Washington Submitted: 23 January 2000
---
1952 Chevrolet Styleline Deluxe in Rio de Janeiro, Brazil
Here is my 1952 Chevrolet Styleline Deluxe four door sedan. It's my daily driver here in Rio de Janeiro, Brazil, and still runs great with the 216 engine. The only non original parts are electrical system (now 12 volt) and cloth interior. My Chevy - never restored - was made in Tarrytown and has the speedometer in kilometers.
Until the early 60`s 1949-1952 Chevys were the most common models in Brazil (taxi drivers loved this strong cars). Today, however, the old American cars are a rare sight on streets and my Chevy attracts lots of attention.
I'm his second owner. The car spent years uncared in a garage before I bought it in 1996.
Now, I'm planning to purchase another car - a green 1951 Styleline in great shape, with 6 volt system and original radio working. It will be used only in weekends, and the black 51 will continue as a daily beater!

Jason Vogel of Rio de Janeiro, Brazil Submitted: 1 February 2000

---

Chauffer Driven '52 Chevy Styleline in Brazil
Model: 1952 Styleline Deluxe - 4 door sedan
Use: Weekend or special dates driver and rent-car for marriages (but I'm the driver...)
Engine: Original 216' with 3-speed mechanical transmission
Non-Original: 12V alternator system, white roof and interior cloth.
(The photo with yellow license plate is before the main restoration)
---
1952 Chevrolet Bel Air
in Caxias do Sul, Brazil
CHEVROLET Bel Air HT 1952
Engine: 6 cyl. 105 HP, 3.800 cc, Valve-in-Head with Automatic Choke, Hydraulic Hushed Valve Lifters
Transmission: Hydraulic Power Glide
Serial Numbers: Style: 2154 - Body - 105 - Paint - 24 -
Total Number Body: 522154105
I'm the second proprietor of this Chevy from 1988. It is from Porto Alegre - capital of Rio Grande do Sul- BR
I frequent all events and festivals of antiques cars like "South Brazilian of Antique cars," "Antiques Cars Festival of Porto Alegre," "Olds Cars of São Paulo - SP, etc.
I hope you enjoy.
Thanks and Take Care
Homero Nectoux Submitted: 9 September 2000
---
Click Here to See More 1952 Chevys