Chevy Scrapbook
1952 Page 2
The Photos associated with these pages have been sent to me since December 1999.
These are all near original condition vehicles.
If you would like to display your Late '40s to Early '50s Model Chevrolet,
(preferably in near factory or restored condition, No Hot Rods Please)
send me an e-mail with your .jpg or .gif photos (limit 6 please)
Please note this is for 1946 through '54 Model Chevys Only!
Click on any Photo to ENLARGE
---
1952 Chevy Deluxe 4 Door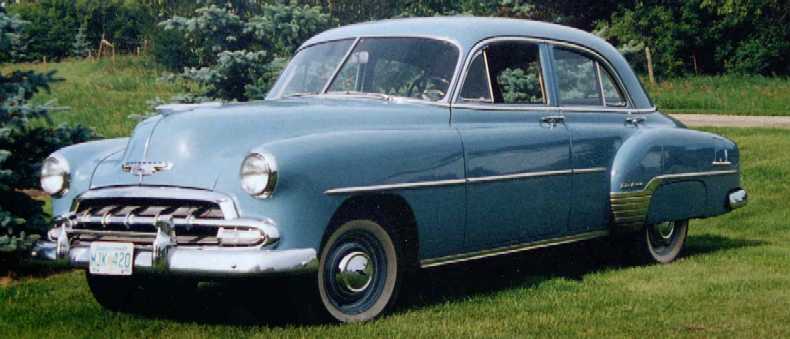 This is an all original 1952 Chevy Deluxe 4 door.
Original Airways Blue Paint.
64 000 Original Miles
only 2nd set of tires
Original Spare and Jack in trunk never used
Bought by my grandfather in 1952 and had it since then.
Looks like its new!
Have owners manual, bill of sale, and all license plates from 52 up.
No new parts or motor work done. interior looks like it was never sat in!
Starts every time!
Braden Kowal of Yorkton, Saskatchewan, Canada Submitted: 17 May 2003
---
1952 Bel Air
This is my 1952 Bel Air. My father bought it new and I have the owners manual and sales receipt.
It is original, including the paint and dirt underneath, the clock even works! It has the 235 with Power Glide,
at this time it has less than 57,000 miles.
Bob Damm of Canby, Oregon Submitted: 23 June 2003
---
1952 2 Door Deluxe in Belgium
This is my 1952 Chevy Deluxe 2 Door....Just bought the car last week and have polished it before these pics. It was sitting under a lot of dirt with the last owner...Did you know there was an assembling line for 4 door Chevy Deluxes in Belgium !!!

Gert Ouderits of Belgium Submitted: 4 August 2003
---
Click Here to See More 1952 Chevys